Corridor Cup 2018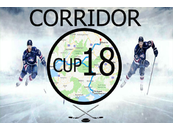 Corridor Cup 2018
Corridor Challenge Cup - Corridor Cup 2018
The Corridor Challenge Cup is a Challenge cup specifically setup for teams who are in development and want to play in a league with games going towards standings.
Teams must all be in the Beginner to Intermediate category.
With lots of teams getting setup with some having big league players (retired or dropping down from higher leagues), it's sometimes harder for those newer teams to have any luck with games.
The idea of the cup is that the teams are of round about the same level and that the scores could go either way on game day. It makes it more fun for those involved of everyone has a fair chance, and keeps teams and players spirits high while developing and learning the game.
We are planning on doing this Challenge cup to fundraise for Help for Heroes'.
Every player who enters is requested to make a donation on this page (JustGiving link) or use your mobile to text (text link) and donate £10 as an entry fee. This will go to the charity, each team will have their own page for fundraising, so it will be a fun competition between teams, who raises the most.
With 7 teams of 30-40 players plus 3 goalies, that's over £2,000 that we should be able to get before we do any work!
Follow the league to get the latest news and results straight to your email